Avoid Fights Between Heirs:
Spell out your wishes on division of your property
Democrat & Chronicle, 12/24/05
Lara Becker Liu, Staff Writer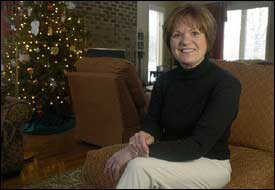 Dorothy Madden can't remember what started the rift. She only knows that her mother's twin brothers, who live a mile apart, do not speak to each other today because of what happened 35 years ago while settling their parents' estate. And she knows that she never wanted "stuff" to come between her and her sisters.

As the sheer volume of Surrogate's Court cases can attest, though, desire to avoid conflict isn't always enough when it comes to dividing heirlooms, real estate or other property.
Attachment to sentimental objects, coupled with grief over the loss of a loved one or resentment toward a family member, can spark feuds that last a lifetime.
"All too often, people want to tell everyone what they want to hear, and not the parts they don't want to hear, so division of property sometimes comes as a surprise," said Bill Brongo, chief clerk for the Monroe County Surrogate's Court.
Madden's family went to great lengths to avoid such unpleasant surprises. When Madden and her sisters visited, their mother asked them to use color-coded stickers to mark those items they thought they might want someday. Or, their mother let them simply take the item home right then.
"It was less for her to take care of, and we had the pleasure of it in our lives," said Madden, of Penfield.
When Madden's mother died in 2001, Madden and her sisters were similarly methodical in dividing the remainder of their mother's belongings.
They started in the garage. For the first round of picking out what they wanted, they went according to birth order. Then they switched the order, so each sister had first dibs. When they had taken all they wanted, they repeated the process for their husbands and children.
"We had tried to figure out what was going to be a sensible way to do it," said Madden, adding that it was nevertheless overwhelming, in light of the sadness they all felt over their mother's death.
Not everyone is so organized. (Madden, in fact, organizes people for a living. Her business is called Organize It.).
Nor are they so kindhearted.
Trust and estate attorney James G. Vazzana has mediated some fairly messy disputes among family members arguing over property left to them.
"I've had people fight over diamonds, over who did the decedent mean when he said 'my nephew' and he has three with the same name," Vazzana said.
"The strangest thing I ever had was in one estate where a brother and sister were fighting over whether or not their father was to get the same mausoleum that he had provided for his wife."
The first paragraph of the man's will instructed his heirs to build a mausoleum equivalent to his wife's, who had died 30 years earlier, but the price of hers in 1948 "was like, $20,000," said Vazzana, "and today, it was $200,000."
"They kept the guy on ice for six months fighting over (it)."
Vazzana recommends several steps to clients seeking advice on trust and estate matters.
"The best way to do it is to enunciate in a will what you want done with your personal property," he said, "or even better, give it away while you're alive."
For those who are concerned about needing to make frequent changes to their will, "what I recommend is a written letter of instruction to be given to the executor. It's easier to change a letter of instruction than a will."
But, he cautions, a letter of instruction contains language that is not "mandatory."
"If you really want to protect it," Vazzana said, "put it in a will."
He also suggests that if there is even a hint of sibling rivalry, "don't name your children the nominated fiduciary. Name a bank or a close friend, somebody that can distance themselves."
Or, direct the executor to sell and liquidate all personal property in the case of conflict and divide up the proceeds.

Tips
Dorothy Madden, owner of Organize It, has the following tips for keeping personal items in order:

Keep your records (insurance records; financial and tax records; wills; marriage, divorce and spouse's death certificates; property documents; vehicle registrations, etc.) clearly labeled and in one place such as a file drawer, a fireproof safe or an off-site safe deposit box.

"One of the best gifts our parents gave us (was when) we opened the safe, and everything was in labeled manila envelopes: insurance, will, deeds — all the legal and financial documents you could have ever wanted were labeled, packaged, rubber-banded," Madden said. "It was such a gift, because you didn't have to go rummaging through to find want you needed."


Create a reference sheet with names, addresses, phone numbers and e-mail addresses for your lawyer, accountant, financial adviser, banks, etc. Include combinations to locks and the location of storage keys. List also where documents and records are located."


Have a conversation with your children about your wishes and show them where you keep your records. "Usually children don't want to think or talk about the prospect of their parents' deaths," Madden said.


Also initiate a conversation about dividing up tangible items with your children and brainstorm ways to do it. "Stress that family peace and unity is the desired outcome," Madden said.
Reprinted with the permission of the Democrat and Chronicle, Rochester, NY