Golden Circle Member Spotlight
NAPO-NY Newsletter, Winter 2008
Dorothy Madden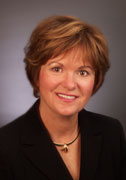 My company, ORGANIZE IT!, was formed in 1997 and I joined Golden Circle in 2003.
Like many of you, my organizing business was created because a colleague pointed out my organizing strengths and said I should put them to greater use! She recommended Michael Gerber's book, The E-Myth Revisited. Reading it confirmed that organizing was my strength and perhaps I should pursue it - but how?
Unaware of professional organizing, I explored the Internet and found NAPO. Wow - an organization of like-minded folks who charged for their services and made a career out of it - what a concept and how right it felt for me!
After completing legal documents, my company was formed and I joined NAPO in February 1998. While awaiting membership information, I contacted NAPO to inquire about networking with organizers around the country. I was full of questions and eager to learn.
They directed me to Stephanie Denton, Membership Chair, who suggested I attend the upcoming national conference because, as she assured me, it would shorten my learning curve by two to three years. I was convinced and off I went to the 1998 conference in Portland, Oregon. Stephanie was right. I learned a lot, gained confidence, and connected with organizers around the country who became friends and advisors.
I'm a former teacher and have a Master's Degree in Education. Now, instead of teaching students in a school setting, I'm teaching people of all ages who have found that what they've been doing is no longer working for them and they are ready to change. I feel fortunate to do what I love and I love what I do.
I work with residential, small office/home office, and corporate clients and thoroughly enjoy the mix. I've been published in local business journals and newspapers and have had numerous local TV and radio appearances.
I received the "Home-Based Business of the Year Award" from the U.S. Small Business Administration's Buffalo District, an area covering 14 counties in 2004. That same year I was also recognized as "Inspiring Businesswoman of the Year" by the National Association of Women Business Owners' Rochester Chapter.
Based in Rochester, I don't attend Golden Circle meetings as often as I would like. However, the meetings I've attended I've truly enjoyed. The camaraderie of professional organizers is unparalleled and refreshing. I just wish I lived closer!